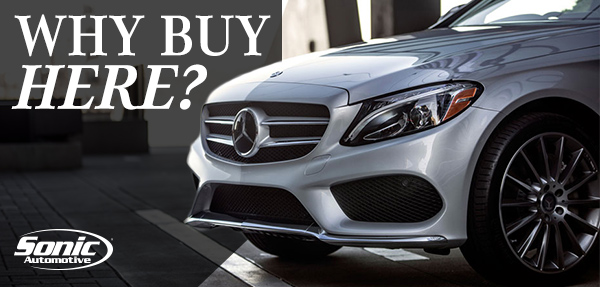 The Sonic Automotive Experience
Mercedes-Benz of McKinney is the newest Mercedes-Benz dealer in the area, and we are a Sonic Automotive store. That means we follow strict guidelines to assure that your experience is like no other.




BUYER-CENTRIC We offer cutting-edge service and customer care. It's a whole new car buying process centered around you. We move at your pace. Our expert sales staff is here to help you find exactly what you want, not sell you what we want you to buy. There's a big difference.




ONLINE & ON THE LOT We are your destination for the Mercedes-Benz C-Class and other amazing Mercedes-Benz vehicles. Browse our inventory online from anywhere you choose. You can get a sonic price and even get pre-approved. When you're ready, visit us in person. We guarantee the vehicles and prices you see online are the same ones you'll see on the lot.



SONIC PRICE Speaking of pricing, every vehicle at Mercedes-Benz of McKinney comes with one price, the Sonic Price. Now you don't have to negotiate to get a fair price. We give you our best price upfront. It's based on competitive selling prices in the market that you'd expect to pay, eliminating the awkward back and forth. And the price never includes extra costs for equipment or services you don't want.

It all adds up to a simpler, more enjoyable way to buy a car that respects your time and your intelligence. The way car buying should be.

Instant Cash Offer for your Trade
We'll buy your car even if you don't buy from us. You'll get a fast, fair appraisal and you can leave with a check in hand. You can even get a quick Black Book trade-in appraisal online. It's so easy!


Schedule a Test Drive
Find the vehicles you're interested in right here on our website, then come on in and take them for a spin! You can test drive as many as you want. Just click below to schedule a test drive and we'll have them ready when you arrive. We get it-- you're time is valuable. We want to make your whole experience as efficient and fun as possible!


Concierge Service
Did you know you can buy or lease a car without ever leaving home? At Mercedes-Benz of McKinney, we bring the store to you. From shopping for your dream Mercedes-Benz, to delivering your vehicle, consider us your Automotive Concierge. We'll go over every feature, even pair your devices and connect your phone. We know you might not expect it, but you deserve it. Just click here and someone will be in touch with you.

We accept all Mercedes-Benz Lease Returns
We accept your return regardless of which dealership the vehicle was originally leased from. Consider us your lease return facilitator. Now that you are near the end of of your lease, it's time to familiarize yourself with our lease return options.


Discover AMG
Mercedes-Benz didn't invent the wheel. They simply perfected it. Experience the pinnacle of automotive innovation behind the wheel of a new or Certified Pre-Owned AMG® model at Mercedes-Benz of McKinney.