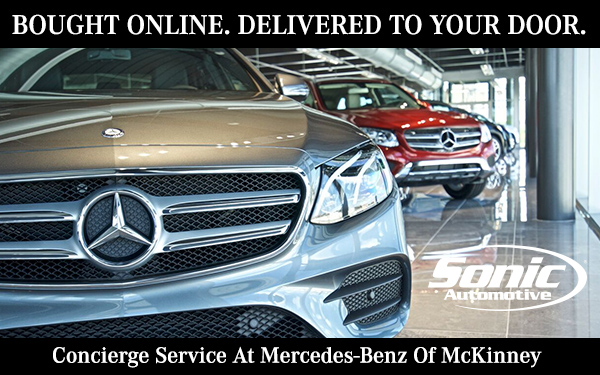 Buy Your Next Luxury Car Online
At Mercedes-Benz Of McKinney
At Mercedes-Benz of McKinney, we bring the dealership to you! Select and purchase the car you want without ever leaving the comfort of your home. Simply browse through our wide selection online, and then use our Concierge Service to make a purchase.

Interested in a lease? No problem! Contact our Concierge Service for information on our available lease offers.

Your New Mercedes-Benz Delivered Right To Your Door
Once you've found your next Mercedes-Benz, we'll help you take care of everything else. Count on us to go over every feature with you and even pair your devices and connect your phone.

Plus, once your transaction is complete, we'll deliver your new Mercedes-Benz right to your door!

Why go through the trouble of waiting around at a dealership when you can get everything you need without ever leaving home?

Contact Your Automotive Concierge
At Mercedes-Benz Of McKinney
Fill out the form to get started on your new Mercedes-Benz purchase today, and someone will be in touch with you soon!

Get the new luxury car you've been waiting for from the comfort of your own home today!